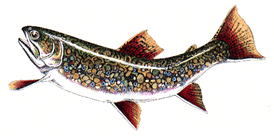 Naturalist-artist David M. Carroll, who in 2006 was named a MacArthur Foundation Fellow, is the author of three acclaimed natural histories: THE YEAR OF THE TURTLE; TROUT REFLECTIONS; and SWAMP-WALKER''S JOURNAL. The latter was awarded the John Burroughs medal for distinguished nature writing. This "wet-sneaker trilogy" was expanded to a quartet with the publication of his memoir centered on his lifelong connection with turtles and their habitats, SELF-PORTRAIT WITH TURTLES.
His fifth book, FOLLOWING THE WATER, A HYDROMANCER'S NOTEBOOKS, is scheduled for publication by Houghton Mifflin in 2009. David is a graduate of the School of the Boston Museum of Fine Arts and Tufts University. He has received an Honorary Doctorate of Humane Letters from the University of New Hampshire and an Honorary Masters in Environmental Science from New England College.
In addition to his own field work, David has conducted investigations for the Endangered Species programs of New Hampshire, Vermont, and Maine; as well as for such agencies as the U.S. Environmental Protection and the National Park Service. His fieldwork has been published in scientific journals, including Chelonian Conservation and Biology and Northeastern Naturalist.
David and his work have been the subject of numerous articles and interviews, and his artwork has been widely exhibited. He is an active lecturer and turtle and wetlands preservation advocate; among awards he has received are an Environmental Merit Award from the U.S. EPA and NH Audubon's Tudor Richards Award.